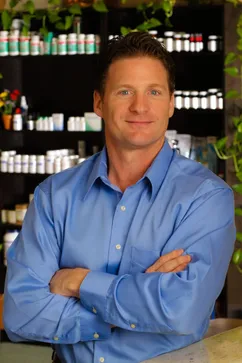 Dr. Brad Waters is a family Chiropractor in Lake Forest, California. He began his practice in 1991 and quickly formed it into a unique family practice treating newborns through age 99! He is Board Certified as a Chiropractic Pediatrician. Dr. Waters has gained the respect and recognition of Chiropractors and Pediatricians throughout the county who regularly refer their young patients to him.
He completed his undergraduate work in Southern California and received his Doctor of Chiropractic diploma from Los Angeles College of Chiropractic in 1989. Dr. Waters attended Palmer College of Chiropractic from 1994-1996 and gained Diplomat status in Chiropractic Pediatrics in 1997. He is a teaching member of the International Association and teaches classes on Pediatric Sports Injuries across the United States, and has presented at the annual Conference of Chiropractic Pediatrics.
Dr. Waters is current with extensive knowledge in the areas of exercise and nutrition. He is on the cutting edge with proven chiropractic techniques and therapies. His understanding that the body is self regulating and self healing provides him with his basic philosophy that we heal from the inside out, so we must treat the body with this in mind. Dr. Waters has a positive holistic approach to healthcare and wellness. He sees an extremely high success rate in his patients.
Dr. Waters resides in Lake Forest, California with his wife, Laurie and has two adult daughters Emily and Megan. He is a hands-on dad who has many years experience coaching various sports. He is a tri-athlete who takes his own health seriously. His experience as a doctor, coach, father and athlete brings a unique perspective to his approach in the care of all of his patients, including athletes, babies, children and adults. His passion is to correct the cause of the problem, not just mask the symptoms.
Dr. Waters uses the following treatment techniques:
The Diversified Technique is the most widely used of all the chiropractic treatments. This is the chiropractic technique developed by D.D. Palmer, DC, and serves as the cornerstone of the manipulation/ adjustment procedures taught at Chiropractic Colleges. In this technique, the chiropractor uses manual adjustments to treat subluxations of the spine and joints. It involves high-velocity and low-amplitude thrusts which are often accompanied by a slight 'popping' sound (cavitation). The audible sound is caused by the release of oxygen, nitrogen, and carbon dioxide, which releases joint pressure. Some patients may find this sound a little un-nerving. In such cases Dr. Waters may then switch to one of the other equally effective techniques.

The Activator Methods Chiropractic Technique (AMCT), also commonly referred to as the Activator Technique, makes use of a hand-held spring-loaded instrument, known as the Activator Adjusting instrument to treat subluxations. The chiropractor uses the activator adjusting instrument to apply a consistent, low-force, but high speed adjustments to the subluxation area being treated. The force of the thrust applied, using the Activator adjusting instrument, is lighter, but much quicker than any adjustment / manipulation delivered by hand. An important advantage of this activator technique is that it can be used effectively on all patients, from babies to frail elderly. It can even be used safely on those patients, where manual adjustment is considered to be contraindicated.

Bio Energetic Synchronization Technique (B.E.S.T.) is a light touch, energy balancing treatment technique used to help balance the sympathetic nervous system (fight or flight). B.E.S.T. is a technique which is widely used by health care practitioners all over the world who practice mind/body healing, and who recognize that the body is more than the sum of its parts.

NET is a safe, effective, and natural way to instantly resolve persistent health problems. This is accomplished by resolving "stuck" emotional components that accompany physical symptoms. While we all have natural and healthy emotions, sometimes we experience exceptionally challenging events. Such stress can contribute to physical complaints and emotional difficulties. The Neuro Emotional Technique (NET) is a powerful intervention that can evaluate and ease the internal stressors that are creating barriers to health and success.

Torque Release Technique is used to reduce blockages and tension of the entire spinal system, to release trapped unresolved patterns in the body/mind, and to facilitate reintegration of the nervous system. Torque Release releases tensions on the spinal cord by correcting subluxations of spinal segments intimately connected with the meninges or attachments of the spinal cord. It leads to profound neurological changes that benefit everyone – no matter what symptom or level of health they are currently experiencing. Because analysis and correction are not limited to just the area of pain and symptom, integration tends to be more complete and healing experiences are deeper in all areas of the body, mind, and emotions.
You can reach Dr. Waters directly via email at [email protected] .